Ryanair orders 175 new aircraft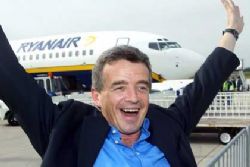 Ryanair yesterday confirmed a £10bn deal for new planes in a deal which looks likely to create around 3,000 jobs across Europe.
75 of the aircraft on order will replace Ryanair's existing fleet of 737s, with 100 being completely new stock.
The often controversial Airline announced said it was taking on 175 new Boeing 737-800s as it aims to fly more than 100 million passengers a year by the beginning of 2019.
The Airline's CEO Michael O'Leary said: "We are pleased to sign this agreement with Boeing which will expand our fleet to over 400 units, creating over 3,000 new jobs for pilots, cabin crew and engineers, while allowing us to grow our low-cost airline service by about 5% per annum over the next several years.
"Ryanair is proud to buy Boeing, who have always made great aircraft and the 737-800 has been the cornerstone of Ryanair's success due to its great engineering and phenomenal reliability. These 175 new planes will enable us to lower cost and airfares further."
The announcement follows news from earlier this week that the Airline is to reinstate the 17 routes in cancelled from Alicante El-Altet Airport in April of last year in protest over Spanish courts forcing the airline to make passengers embark using air bridges for reasons of safety.