Rajoy to change Spain's economic forecast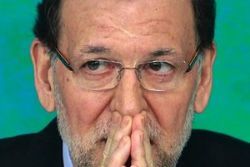 Spain is likely to change its economic forecasts to more accurately reflect the current economic situation, Prime Minister Mariano Rajoy commented earlier today.
"International organisations have changed their forecasts on a number of occasions and there are factors that, no doubt, will oblige us to do that ... I believe we will change our forecasts," he said during a weekly appearance in Parliament.
The government is widely expected to update forecasts for a 0.5 percent contraction in gross domestic product (GDP) for 2013 in April when it passes its new economic forecasts to Brussels.
Most analysts expect a contraction of around 1.5 percent this year.
However, yesterday a forum made up of Spain's 17 top Business CEOs met in Madrid, where they said how they expected to see the country's GDP contract 0.3% in Q2, post zero growth in Q4, and expand 0.3% in the last quarter of 2013.