SAREB submits revised business plan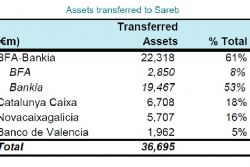 Spain's bad bank SAREB announced a slightly lower-than-expected return on equity in a new business plan approved on Wednesday for the entity's 15-year lifespan.
SAREB, the asset management company created by the government at the end of last year to house soured property assets, said it would offer a return on equity of between 13 - 14% versus initial expectations for a return of 14 or 15%.
The bank is still trying to complete its capital and shareholder structure but said in a statement that the approval of the business plan was a key step in allowing it to start managing its assets, worth about €50.4 billion.
The majority of the real estate assets come from nationalised lenders such as Bankia, Catalunya Banc, NCG and Banco de Valencia, all of which have suffered from a burst property bubble and prolonged economic recession.
SAREB said it plans to sell almost 50% of the buildings and homes within the first 5 years of operation.
The bank, launched to comply with the terms of a €40-billion European rescue of Spanish banks, said it expected to generate 75% of its revenues through property sales and the remaining quarter by selling loans.