Euromillions Jackpot Guaranteed €100 Million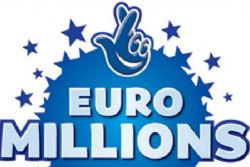 Euromillions players are just hours away from being able to win a guaranteed jackpot worth €100 million this Friday 22nd March 2013.
The super jackpot comes around every so often and attracts huge interest across the continent and from around the globe, although with only a few hours to go, players are being urged to grab their tickets as soon as possible in case of technical difficulties.
More often than not, most players buy their tickets within the last hour of the draw closing leaving some dissapointed as unexpected technical difficulties may occur leaving some without their tickets.
The Euromillions Lottery closes for ticket purchases promptly at 8.30pm CET / 7.30pm GMT every Friday night.
To avoid dissapointment, grab your Euromillion Lottery tickets now HERE .
What would you do if you won €100 Million? Would you buy a new car, house, travel or simply keep quiet and help family and friends? Tell us in the comments below...
Buy Euromillions Lottery Tickets HERE