Spain Softens Austerity for Regions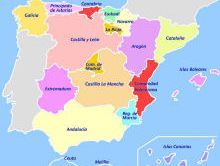 Spain is preparing to ease austerity for its most cash-strapped regions in anticipation that EU peers will grant the government more time to reorder public finances in the second year of a recession.
"All options have to be studied given how much the range of regional deficits has widened," Budget Minister Cristobal Montoro told reporters in Madrid following a three-hour meeting with regional budget chiefs last night. A task force has been created to study how individual debt and deficit goals could be set for the 17 semi-autonomous regions, Montoro said.
Willem Buiter, chief economist at Citigroup Inc., talks about the outlook for Spain's economy and Cyprus's banking crisis. Buiter speaks with Tom Keene and Sara Eisen on Bloomberg Television's "Surveillance."
Montoro said the government would ease regions' combined deficit goal of 0.7% of GDP in 2013 if the European Commission relaxes Spain's target. "The earlier we get new targets, the earlier we'll all be set," he said.
PM Mariano Rajoy this week started backtracking on his pledge to haul the euro region's 4th-largest economy out of a 6-year slump in the second half, saying the government may forecast a greater contraction than its current prediction of 0.5%. The IMF estimates the economy will shrink 1.5%.
Forecasts must be conservative to make budget-deficit projections credible, Economy Minister Luis de Guindos said March 20. Spain is waiting for the commission to update its budget-deficit targets before submitting a new budget plan through 2014 this month. Spain's current limits, as set by the EU, are a 2013 deficit of 4.5% of GDP for all levels of government and of 2.8% for 2014.
Rajoy claims he cut the nation's total shortfall by about 25% to 6.4% of GDP last year, excluding European aid to the banking sector. The central government accounted for more than half of the gap, while the regions' deficits represented 1.7% of GDP, down from 3.3% in 2011.
The rest was generated by Spain's tax-funded pensions and unemployment benefits system and its more than 8,000 town halls.