President of Castellon Airport to Stand Trial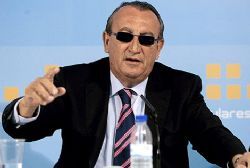 On Friday a judge ordered former head of the Partido Popular in Castellon, to stand trial after formally indicting him on charges of influence-peddling, bribery and tax fraud.
Carlos Fabra, who is also the President of Aerocas - the concession holder of Castellon Airport - has been filing a barrage of appeals for the past 9 years to avoid trial. The move by the judge in Nules to issue the order comes after the Supreme Court rejected the controversial former provincial leader's latest appeal.
The order, which cannot be appealed, now goes to the regional High Court which will set a date. Prosecutors accuse Fabra and his former wife, María Amparo Fernández, of defrauding the Treasury of some €1.5 million between 1999 and 2004. They are asking for a jail term of between 15 and 20 years.
The trial is expected to take place in the fall, which in a sweet irony could mean that 67 year old Fabra is jailed before he ever gets to see the first arrival at his beloved airport - assuming of course that the final approval from the EASA confirms the safety of the facility.
A further assumption would be that one of the 2 offers to buy the airport can be brought to a successful conclusion.
Read further Castellon Airport news by clicking the link >> HERE <<.