Spain makes 200 Eviction orders per day in 2012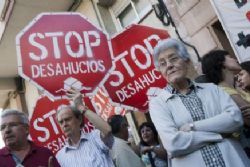 The total number of property foreclosures instigated by the Spanish Courts for the non-payment of Mortgage arreas averaged more than 200 per day last year, according to the General Court of Judicial Powers.
The total number of eviction orders made during 2012 came to 75'605, representing an increase of 16.7% on 2011, when 64'770 were carried out.
Yesterday's figures mean that the total of property evictions ordered by the courts since the onset of the crisis in 2008 now stands at 252,826.
Click>> HERE << to read about Spain's current Mortgage Eviction Process.
The rapid increase in Mortgage Evictions has triggered much social unrest and has resulted in a number of suicides, which has forced Politicians to act in ensuring that it is more difficult for property owners to be evicted from their homes.
Last November the PPgovernment passed a decree in to force a moratorium of all property evictions for the most vulnerable members of society. Families earning below Ä1'650 per month which also have either one child under 3 years old, more than three children, have a disabled dependant living with them, or are unemployed, will be protected from evicition for a period of 2 years.