Murcia's San Javier Airport appoints new boss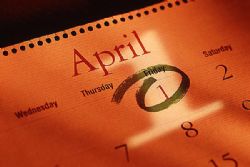 The Spanish Airports Authority - AENA - have appointed Pedro Vicente Gallut Adam as the new Director Murcia's San Javier Airport.
44 year old Gallut, who apparently holds a degree in 'Industrial Relations' from the University of Cartagena and has worked at the Department of Airport Operations since 2006, will assume the role effective 1st April.
The Airport which, depending on who you believe might/might* not close upon the opening of Corvera Airport, which might/might not* take effect later this year. (* Delete as applicable).
Comments made just yesterday by the Spokesman for the regional Government, that "Corvera Airport is unlikely to open by this Summer" , together with this recent appointment only adds weight to the fair and reasonable assumption that Murcia's San Javier Airport is ever likely to close .
Furthermore, it seems that AENA have no sense of irony, with regards to the date they have chosen for the appointment.