El Pais compares Merkel to Hitler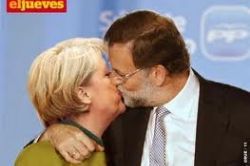 El Pais has retracted an article in its newspaper after it compared German Chancellor Angela Merkel to Adolf Hitler.
In a column written by economist Juan Torres Lopez of the University of Seville, the article stated that "Angela Merkel, like Hitler, has declared war on the rest of the continent, this time to guarantee [Germany] its vital economic space."
Lopez went on to say the the German Chancellor punishes the people to protect the country's companies and banks.
The opinion immediately provoked a response, with social media websites caller the comments "incendiary, stupid and irresponsible".
The newspaper has since apologised and has withdrawn the article "Germany against Europe".
El Pais said it was retracted "because it contained statements that this newspaper considers inappropriate".
" El Pais regrets that a supervisory error allowed the publication of this material. The opinions expressed by Torres Lopes are his alone," it said.