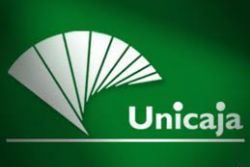 Mid-sized Spanish lender Unicaja, one of the country's healthier banks which had been due to absorb a weaker rival, on Monday posted a €577 million loss for 2012 because of soured real estate loans and investments.
Unicaja, from the southern region of Andalusia, is one of a select group of Spanish banks that managed to survive a 5-year-old property market crash without taking state help.
In a stress test of the sector last year, the lender was found to have a big enough capital cushion to face an even deeper economic downturn, putting it in prime position to benefit from further consolidation in the stricken industry.
Spain is hoping that 2013 will mark a turnaround year for its banks after it was forced to ask Europe for €41 billion in aid for its weak lenders last year, though that turnaround will rest on the potential for healthier banks to help with the clean-up.
Unicaja said it had taken a €1.2-billion hit from steep provisions on rotten loans to property developers and real estate assets enforced by the Spanish government in 2012, pushing it into the red.
It had made a €105.6 million profit in 2011.
Unicaja did not mention on Monday the state of negotiations with CEISS, a troubled peer that did take European aid.
Unicaja had been on course to take over the bank but the merger was put on ice at the end of last year, when CEISS - itself the result of a merger of 2 former savings banks - had to work through a restructuring plan demanded by Europe.
CEISS has now transferred problematic real estate assets to a so-called 'bad bank' set up by the government. It is also expected to receive €600 million in European money. That would come on top of a €500 million public aid from 2010.
It is likely to end up at least partially nationalised by the state, sources have told Reuters, although it is unclear where that would leave its prospects of a merger with Unicaja.
Unicaja on Monday said its bad loan ratio was 6.6% at the end of 2012, compared with a sector average of 10.44% in December.