Regulator suspends trading in Telefonica shares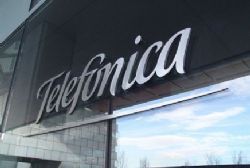 Trading in shares of Spain's Telefonica were suspended on Tuesday morning after Europe's biggest telecoms operator by revenue said it would sell all of its treasury stock in a push to reduce debt.
The trading suspension would be lifted at 0900 GMT, the regulator said in a statement.
Telefonica declined to comment on the share suspension.
The sale of treasury stock, equivalent to 2% of the company's capital, will be carried out via an accelerated bookbuilding process and will not take more than a day, Telefonica said after the market closed on Monday.
"Assuming a 5% discount versus yesterday's closing price ... the company could raise €962 million, representing 22.4% of Telefonica's total debt-reduction target in 2013," Sabadell said in an investors note.
Telefonica shares closed at €11.2 on Monday.
The carrier, which has been battling recession for over a year in one of the euro zone's worst hit economies, aims to cut debt to less than €47 billion by the end of the year from more than €51 billion at the end of 2012.
The group has been shedding assets in the battle against its debt load, selling part of its stake in China Unicom and its call centre business Atento last year and is expected to sell a number of smaller assets this year.