1.7 Mln Brits Escape to Spain this Easter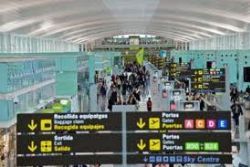 ABTA have predicted that as many as 1.7 million Brits will head to Spain this Easter.
The Balearics and Canary and Islands are heading the list of most popular destinations of holidaymakers looking to escape one of the coldest Easter periods on record in the UK.
Earlier this year the World Economic Forum rated
Spain the 4th most competetive Tourist destination
(behind Germany, Austria and Switzerland), and as having the 5th best Infrastructure for Tourism out of a total of 140 Countries,
Perhaps unsurprisingly, a high proportion of these breaks are last-minute bookings
With daytime temperatures in the Spanish Islands averaging around 20 degrees, this is proving to be too hard to resist for those in the UK, who in many cases are battling record snowfall and daytime temperatures barely above freezing.
The Catalan resort of Salou in particular is preparing for a busy 3 weeks as around 9'500 British Students are expected to descend on the Town for their annual "Saloufest" Easter break.