"Normal to Urinate in Public" : Spanish Tourists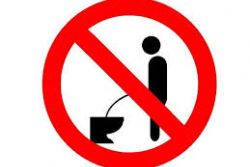 Despite what the average Spaniard may think, it seems that being badly behaved whilst on holiday is not the sole and exclusive right of the British Tourist.
A New Zealand based website has reported how 2 female Spanish Tourists have been arrested for urinating at the side of a bust roadside at 12.30 in the morning.
The 2 women pleaded that they did not know that they had committed any offence, and that this kind of behaviour "is normal at home".
The Women were released on a pre-charge warning, however, the New Zealand authorities reminded tourists that they were required to observe local laws.
Whilst generally speaking, it would be difficult to deny that many British Holidaymakers do not exactly fly the flag for Anglo-Hispanic relations, it is refreshing to see that the Spanish - when they do venture abroad - can be just as bad.