Corvera Airport : There are "Other Options"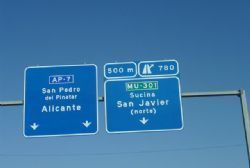 The Murcia Regional Minister of Touirsm and Culture, Pedro Alberto Cruz, has said how the Government is prepared to enforce the conditions of the contract awarded to Aeromur with regards to their mandate to operate Corvera Airport.
Cruz confirmed that "other options" were available with regards to ensuring that the airport became operational, of which the award of the concession to Aeromur was just one.
For their part, Aeromur argues that construction work at the airport was finalised some 15 months ago, with which they have had no means of repaying their loans without the airport becoming operational.
A further concern is that Aeromur must now negotiate with AENA and the Spanish Aviation Security Agency (EASA) to transfer operations from San Javier Airport, and to reclassify airspace for the approach of flights to Corvera - something that was not envisaged at the begining of the project in 2007.
Cruz would not comment on the extent of what these "other options" were.
Just last Friday Cruz acknowledged that Corvera Airport would not be open this Summer .