Orange Spain launches 2 new tariffs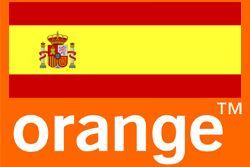 Orange España has launched 2 new offers for their voice and data service packages. The new offerings - 'Habla y Viaja 39' and 'Habla y Viaja 79' - being intended to be of specific interest to business consumers who are likely to make a number of voice and data calls whilst travelling overseas.
Habla y Viaja 79 consumers will be entited to unlimited calls and 1.5GB for mobile data traffic within Spain, 300 minutes and 300 MB in roaming, 300 minutes for calls to international fixed and mobile numbers, as well as access the Tranquilidad Total Orange mobile insurance service, and an iPhone 5 device.
Meanwhile, the Habla y Viaja 39 package offers 300 minutes and 500MB for mobile data traffic within Spain, 100 minutes and 100 MB in roaming, as well as a Samsung Galaxy III mini device.