Spanish City seeks ways to Tax Church activities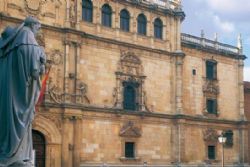 The ancient city of Alcala de Henares, Madrid, is reportedly seeking new ways to tax the properties and commercial activities of the Catholic church.
This comes despite Prime Minister Mariano Rajoy telling journalists last week that Spain 1979 treaty with the Vatican would remain in place.
In theory at least, any commercial activity undertaken by the church is supposed to be taxed in line with any other business activity in Spain, however this is rarely applied in practice and councillors are looking at this as a means to generate more revenue for the City.
Whilst the City is not seeking to tax the charitable works, the Church owns and rents out a number of residential and commercial properties throughout Spain which it uses to generate income for itself. Taxing these activities would generate an additional €3 Billion Euros in revenues alone.
For their part, the Church insists that they should be extended the same deal as other Non-Profit groups, such as the Red Cross, and that they have been singled out because of the value of their assets.
Meanwhile, the City of Alcala de Henares, with less than 200'000 residents, is struggling with debts of more than €300 Million.