Canary Island Earthquakes Escalate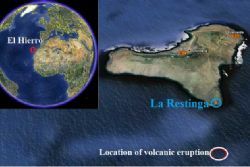 The second round of the Earthquake swarm, which originally hit the Canary Island of El Hierro in June 2011 and resurfaced again earlier this month, has escalated over the course of the last few days.
Over recent weeks the Earthquakes have averaged around 2.0 on the Richter scale, and at relatively deep depths, however over the last 24 Hours at total of 9 activities have been felt by local residents on the surface of the Island.
The National Geographical Institute (IGN) reports that the strongest of these activities measured 4.6 on the Richter scale, with all but one of them measuring greater than 4.0. The recorded depths of the 9 Quakes that were felt were observed between 19km and 21km.
With El Hierro being the most Volcanic of the Canary Islands, Volcanologists and Seismologists alike are observing achieving on and around the Island. As with previous surges in activity, the various specialist earthquake forums and social networks around the world are also awaiting developments in the (remote) likelihood that any further activity may cause a chain reaction of events that 'could' trigger a Tsunami emanating from the neighbouring Island of La Palma.
Back in 2000 the BBC documentary series, Horizon, predicted what would happen if Volcanic or Seismic eruptions caused a landslide on the Island. In the event of this happening a mass upwards of 4'000'000 cubic meters could crash into the Atlantic and cause a Tsunami that would be as high as 300 ft, and could cross the ocean in just 6 hours.