Money leaving Spain slows in 2012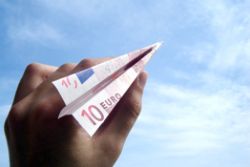 Moneys sent by Emigrants living in Spain to their countries of origin fell 8.3% last year to reach €1.65 Billion.
However, the report published by the Bank of Spain also revealed how money sent to Spain by Spanish Expats living overseas increased by 6.7% over the same period, reaching €1.39 Billion, up by around 1.5% on 2011.
The findings of the report add further weight to evidence that not only have many Expats returned to their country of origin, but that many Spaniards have also moved overseas over recent months in a bid to find employment opportunities and are sending money back to Bank accounts, or friends and relatives in Spain.
Data obtained from Foreign Currency Exchange companies has also revealed how the main recipient countries from monies being sent out of Spain are in line with the main Expat nationalities, with Romania, Morocco and Latin America heading the table. Remittances sent to Romania and Morocco alone fell by more than 5% each over the course of 2012.