Ryanair Calendar : Double Standards ?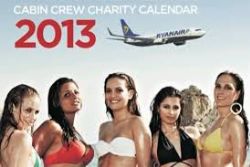 Ryanair is in the pages of the Spanish news once again this week, however this time it is due to complaints of sexism.
The airlines is once again likely to face court action over claims brought by the Provincial Association of Housewives and Consumers of Valencia, who allege that the annual calendar of scantily clad cabin crew is "Sexist and Exploitative".
The Airline's annual calendar raises thousands of pounds for a number of charities each year.
The private prosecution is set to be heard in front of 3 Judges in Malaga Province later this month.
Similar action was brought against the Airline following the publication of their Calendar last year.
Although Tumbit is far from being a champion of the airline, it seems that in this case Ryanair is the victim to a shoddy example of double standards being applied here.
Late in 2012 a similar calendar featuring scantily clad Mums raised thousands of Euros for a school charity in Valencia. It seems that the Housewives Association from the same Province were in no way offended by the "Sexist and Exploitative" behaviour in this instance.