Spain unemployment falls in March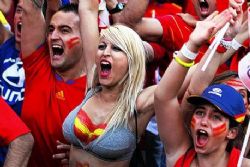 In an unusual, unexpected, but nonetheless welcome peice of good news this morning, it has been reported how unemployment in Spain has fallen.
Figures published this morning by the Ministry of Labour in Madrid reported how unemployment fell by 0.1% last month when compared to March 2012 : the equivalent of 4'979 people. Today's figures mark the first March in 5 years to report a fall in jobless numbers.
The Ministry also confirmed how there were still 5.04 Million people in the country still without work.
Meanwhile, the quarterly report by the National Statistics Institute (INE) on unemployment, which studies registered and non-registered unemployed, has found that there were almost 6 million people out of work at the end of 2012 - equating to some 26.0% of the workforce.