Spain Bank Deposits up 2.5pc Y-O-Y in Feb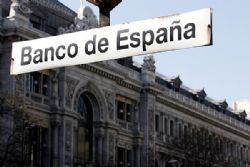 The average cost of household deposits of up to one year fell to 1.65% from 2.43% in January and down from 2.97% at the end of 2012, according to Bank of Spain data published in Madrid today. That's the lowest since the regulator started publishing data in 2003.
Cheaper deposits are bolstering banks hurt by rising loan defaults, shrinking loan books and the impact on lending margins of low interest rates. Lenders have been reducing the deposit rates since the Bank of Spain took steps earlier this year to encourage them to compete less fiercely for savings.
The Bank of Spain said yesterday that household deposits rose 0.3% in February from the previous month and 2.5% from a year earlier.
The regulator is due to publish deposit data for March on April 30. That may reveal any impact on Spanish bank client sentiment of last month's decision by Cyprus to impose losses on uninsured depositors at the country's 2 biggest banks.