Spain ATM withdrawals see biggest fall in 10 years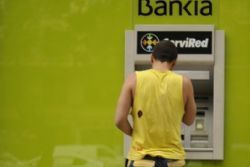 The amount of cash withdrawn from automatic teller machines in Q4 of last year declined 4.5% from the same period a year earlier, the biggest fall over the past decade, according to figures released Monday by the Bank of Spain.
Spain has slipped into its 2nd recession in 4 years, with the downturn deepening in the final quarter of 2012.
ATM withdrawals are a barometer of economic activity. From the start of 2000 when the economy was motoring along, cash taken out grew at a rate close to 5.5%. It fell 2.88% in 2009 when Spain was locked in the worst downturn in living memory and recovered over the following 2 years as the country pulled out of recession again.