Ford to boost Kuga production in Spain by 10 pct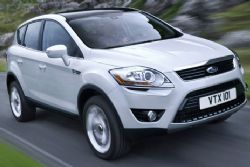 Ford plans to increase production of its Kuga SUV in its Valencia plant in Spain this year by 10%, or 8,000 vehicles, to meet increased demand, the company said on Wednesday.
In a statement, Ford added that it now expects to reach an annual production volume of 100,000 Kugas in Europe this year for the first time, including its Russian plant.
Ford has said it expects to sell more than one million SUVs in Europe in the next 6 years, with SUVs accounting for 10% of all Fords sold in the region by 2016.
The all-new compact EcoSport will launch at the end of 2013, and will later be followed by the larger, next-generation Ford Edge.
This comes despite yesterday's news that the sale of all new cars in Spain was down 13.9% year on year in March, following a 9.8% decrease in February.