Spain sees Tide Turn in Favour of Wave Energy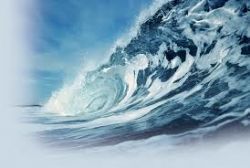 Spanish engineers have found a way to harness the power of the waves off the coast of Mutriku, on the Bay of Biscay, to produce electricity.
A Number of years ago engineers built a hollow, tubular cement breakwater running hundreds of meters into the surf, into which scientists have now built a turnine to generate electricity from wave power.
The investment in the relatively new concept of wave-power follows decades in investment in Solar and Wind energy.
The waves that are funnelled down the Mitriku breakwater utilise a new technology called oscillating waate Columns (OWC) to set a total of 16 turbines in motion, each compressing air more than the previous one to finally drive an alternator and produce electricity.
As such it is the air and not the seawater - which would soon corrode the turbine blades - which come into contact with the movable parts.
The plant, which has a capacity of about 300 kW, which is enough to supply constant power to about 600 residents, cost the regional government about €2 million to build.
Under ideal conditions, renewable energy in Spain has the potential to generate up to 70 % of the demand for electricity, however construction and R&D into renewable energies slowed last year when budgets were slashed.
However, the cost of generating such means of alternative energy is far from being free. Analysts estimate that it took 30 years of subsidies and funding from the Spanish Government to finally put Wind Energy in a position to compete with Gas. Wave energy is still in its infancy and a long way from being a viable source of energy.
Meanwhile, news yesterday reported how Spanish Electricity Provider REE has ordered a 20% decrease in Nuclear energy due to an "overprodution" of energy generated by renewable sources.