"Spain is not Corrupt" : Rajoy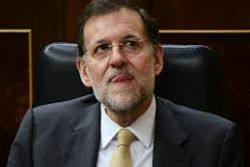 PM Mariano Rajoy dismissed the idea that corruption was pervasive among the ranks of Spanish politicians and predicted an economic recovery next year of sufficient strength to create jobs.
In a closed-door speech to a meeting of the National Management Board of the Partido Popular that was televised for the media, Rajoy defended the honor of the majority of politicians and questioned the impact a series of individual cases of corruption has had on public perceptions.
"It is not true that Spain is a state of widespread corruption," Rajoy said. "The exceptions are representative only of themselves," he added, without mentioning the case of former PP treasurer Luis Bárcenas, who has been implicated in the Gürtel kickbacks-for-contracts scandal and who allegedly kept secret ledgers that show dubious cash payments to PP officials, including Rajoy himself, and illegal contributions to the party.
Rajoy said he hopes that the association of Spain with corruption will soon be a thing of the past. "I don´t want Spain to become unlivable because it is accused without proof," he said.
"It's not a question of hiding anything or trivializing it, or forgetting about it. It's a question of acting with common sense."
The PM was upbeat about Spain's economic prospects. "This year will still be hard, particularly in the first half, [but] in 2014 the Spanish economy will be clearly growing, and we will start to create jobs," he said.
Rajoy said his government's principal objective was generating employment. "That is the aim, the most important one, and nobody should forget it," he said.
The PP leader pledged to continue with his administration's reform agenda in areas such as pensions, energy and new measures to control the public deficit. He said the principal of budget stability has worked well and predicted that to the extent that the public deficit is reined in, the situation would improve. "The state works and is the guarantor of public services," he said.