Student Injured Balconing at Saloufest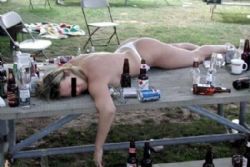 The Sun has reported how a British student has been seriously injured after falling from a hotel balcony during Catalonia's Saloufest Festival.
The 21-year-old was rushed to hospital at 2am this morning after "Balconing" from a first-floor balcony, sustaining multiple injuries including a broken pelvis.
It is understood the unnamed victim was attempting to climb to his room on the 3rd floor after having lost his keys.
Saloufest is currently in the second of it's 3 week Fiesta, with up to 4,000 Students expected to stay in the resort for each of the 3 weeks.
Now in it's 11th year, Saloufest - which is billed a a "Sporting Tournament" - is nortorious for promoting 24 hour non-stop partying, with the fall-out from the event being far from popular with locals who are faced with footing a huge bill for the clear up. Meanwhile supporters argue that the students bring the town valuable business before the busy summer season commences.