Lorca Hit by another Earthquake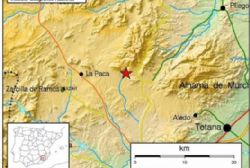 An earthquake measuring 4.3 on the Richter Scale shook the north east of Lorca this morning at 4.27am causing alarm amongst residents and surrounding villages.
The National Geological Institute announced the earthquake epicentre was 11 kilometres underground and reached an intensity of three. Tremors were felt in Aledo, Totan, Cehegin and Archena as well as in some other localities in Almeria.
Whilst no injuries or serious damage to property were reported, emergency services received several calls from worried residents. Tremors before and after were also registered at 11.30pm Wednesday evening then again at 5.30am this morning.
Town Hall officials have posted advice and information on their website www.lorca.es for anyone with concerns about what to do in the event of an earthquake.
This latest seismic activity has revived memories of the double earthquake which struck Lorca on May 11th, 2011 killing 9 people, injuring hundreds more and cost more than €1 million. The repair and rebuilding work continues to this day.
On March 17th 2012, an earthquake measuring 3.7 hit Casares, in the province of Malaga, Andalucía. No injuries or major property damage was reported.
The southern and south east regions of Spain are particularly prone to seismic activity as they sit very close to a major fault line where the European and African continental plates bruise each other on a regular basis, deep beneath the Mediterranean Sea.
Commonly referred to as Spain's seismic 'hot zone', the southern and south east regions registered several thousand tremors during 2012. However most were never felt on the surface by residents.
Recommended Reading
• Double earthquake hits Spain killing 9 people
• Lorca earthquake aftermath
• Lorca earthquake aftershocks continue
• European and African Continental Plates