Spain courts foreign investors during global road show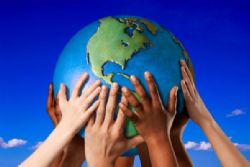 A group of Spanish multinationals kicked off a global charm offensive on Thursday in London, advertising the country to foreign investors as a land of opportunities, despite a prolonged recession and rising unemployment.
Representatives of Spain's Business Competitiveness Council (CEC) said at an evening event in London that Spain was an attractive country for business and would return to economic growth at the end of the year thanks to strong exports.
"Spain is a solvent and reliable country that has made significant reforms to enable its economy to return to a growth path by the end of this year," Ignacio Galan, chairman of energy company Iberdrola SA, told delegates.
After visiting Amsterdam on Wednesday and London on Thursday, the CEC plans to tour 20 other major cities around the world in the next three weeks.
Spanish exports are up 25% from pre-crisis levels and Spain recorded its first ever trade surplus with the eurozone last year, according to data shared by the CEC.
But harsh spending cuts imposed to achieve EU deficit targets have added to the fallout from a 2008 property bust and the country is entering its 2nd year of recession, while battling an unemployment rate of 26%.
The CEC talked up Spain's links to the fast-growing markets of Latin America and touted the country as a platform to produce and export goods and services to the rest of the world.
Set up in 2011 to promote corporate Spain, the CEC groups 15 companies accounting for 75% of Madrid's blue chip index, including banks Santander and BBVA, telecommunications company Telefonica and the world's biggest clothing retailer, Inditex.
Spanish funding costs on markets have eased since the ECB promised to backstop struggling euro zone countries last year and investors snapped up its high yielding paper at an auction on Thursday.
Yet the country is experiencing a credit crunch, with lending to households and companies still falling, despite the €41-billion EU bailout of its ailing banks last year.
Earlier on Thursday, electrical goods retailer Darty Plc said it would close its loss-making operations in Spain, arguing that scaling up the business to a level where it could become profitable would take too long and was too risky.
"What will ultimately dictate whether Spain does recover is whether it can re-energise the small and medium-sized businesses that will be the long term drivers of growth," said Harold Hutchinson, a London-based Investec analyst who attended the conference.
Others were more negative, with one investor pointing to the fact that Spain had recently reneged on long-term contracts offering attractive terms for investments in solar and wind projects.
"We don't like the macroeconomic risk and we don't like the regulatory risk," said Tom Murley, head of renewable energy at private equity fund HgCapital. "We will not put another penny in Spain."