Iberdrola increases wind power production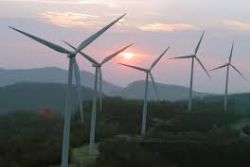 Iberdrola has commissioned 2 new wind-power projects at the El Candal and El Segredal wind farms, in Asturias.
The projects will have a combined power generation capacity of 74MW, which will be able to meet the electricity demands of 25,000 households in the region.
The 38MW El Candal wind farm - located between the towns of Castropol and Boal - will feature a total of 19 wind turbines, with the El Segregal project at Villayon being only slightly smaller with 18 wind turbines providing 36MW.
The projects will allow the combined reduction of around 100,000 tons emission of carbon dioxide into the atmosphere each year, and see Iberdrola surpass a renewable power generation of 5,700MW each year in Spain.
Meanwhile, news earlier this week reported how Spanish Electricity Provider REE has ordered a 20% decrease in Nuclear energy due to an "overprodution" of energy generated by renewable sources.