March sees fall in Spain's unemployed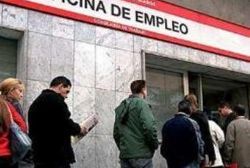 Easter festivities coincided with some respite for the Spanish labour market, according to Ministry of Employment data.
The drop of 4,979 people receiving unemployment benefits in March is the largest drop seen in that month in any year since the beginning of the financial crisis in 2008, according to newspaper ABC.
Fiestas often see a drop in business activity and recruitment – although the run-up to Christmas sees huge numbers of festive casual work on offer in many places – and seasonally-adjusted figures from the ministry reflect an even larger drop in unemployment, of 6,212.
The services industry experienced an increase of 50,729 people in its workforce – the only industry seeing a rise in employment levels, while other sectors saw marginal change or slight reductions, as March saw a further 30,528 people in work.
The total number of unemployed people among Spain's 47m population is now 5,035,000.