AENA Prepares for Corvera Failure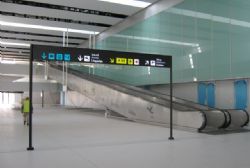 The Spanish Airports Authority - AENA - has reported how the overall goal of Murcia's San Javier Airport for 2013 is to increase passenger numbers.
The Airport welcomed a total of 1'181'490 passengers throughout 2012, representing a decrease of some 6.4% on the previous year. The number of flights also fell by 8.9% over the same period to reach 11'580 operations.
The statement by the state-owned agency - together with the admission last month that "Corvera Airport will not be open this Summer" - leaves 2 questions : Will Corvera Airport ever actually open, and will San Javier Airport ever actually close ?
Recommended Reading
• Alicante Airport : 2 Fingers up to Corvera ?
• Corvera Airport : "This Summer is Lost"
• AENA v Corvera Airport