Filming of Benidorm 6 Underway - You Plonker !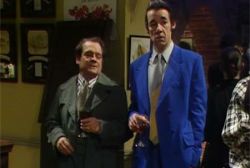 Filming of the 6th series of Benidorm is well and truly underway, with reports of the arrival of yet another well-known British TV and Film personality.
Irena Bodnarec, perhaps the most prolific blogger of 'all things Benidorm' reports that Roger Lloyd-Pack - best known as Trigger from Only Fools and Horses, or most recently from the Harry Potter series of films - has been spotted on set.
With filming due to last for many more weeks yet, it remains to be seen whether Roger - whose character is due to appear in the 2nd episode - will become a regular character on the series, or just a one-off appearance.
Recommended Reading