"Youth without a future" Protest in Spain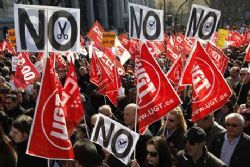 Thousands of disaffected young Spaniards held protests across a number of Towns and Cities across Spain yesterday to vent their anger against the Government and their inability to address the issue of rising youth unemployment.
The movement, calling themselves "Youth Without a Future", staged rallies and marches in Barcelona and Zaragoza and at least 30 other cities around the world.
Many of the protestors were demonstrating from overseas and angry at being forced to leave Spain due to the economic crisis that their country has been struggling with for the last few years.
The prolonged economic crisis - now in its second recession in 3 years - has seen the rate of unemployment for the 16 to 25 age group rocket to 55%, whilst the jobless figure across all ages stands at 26%.
On Wednesday, Spain's Prime Minister Mariano Rajoy said that the country's ailing economy would achieve growth and consequently start creating new jobs again in 2014.
Last week Prime Minister Mariano Rajoy announced the introduction of new measures to help young people become entrepreneurs, setting aside €3.5 Bln in Government aid to assist in this.