Spanish bank restructuring "on track" : Fitch's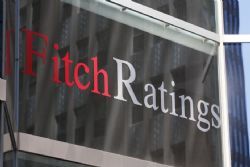 Progress in reforming the Spanish banking sector is good but there are a number of remaining issues that will influence the success, or failure, of the exercise, Fitch Ratings says.
With a 5-year timeline for restructuring the recently recapitalised banks, work remains. Fitch's are negative on the overall outlook for the Spanish banking sector.
The statement released by the credit ratings agency this morning goes on to say how banks that received state aid have to substantially reduce their businesses to bolster their solvency, liquidity and long-term viability. After transferring selected assets to Spain's bad bank, SAREB, thousands of branches are being closed and staff made redundant so these banks can focus on retail and SME lending in their core regions.
Some of the sector's capital needs will be covered by bailing-in subordinated debt and preference share investors. Fitch's estimate around EUR13bn of capital will be generated through these measures, although in some cases investors may be given shares or other debt in return. The subordinated liability exercises have been delayed slightly, complicated by potential mis-selling to retail investors. The agency also estimates that up to 20% of outstanding hybrid instruments could be affected by conduct allegations, with this percentage varying from bank to bank. This will result in additional capital having to be injected.
The report is also pessimistic about asset quality and our ratings incorporate an assumption that non-performing loans will increase this year as problems spread to SME loans and residential mortgages that have so far held up relatively well. Loan provisions are likely to remain high in 2013, although probably not at 2012 levels when provisions were frontloaded as part of the banking reforms. But with SAREB actively managing down a substantial real-estate portfolio over the next 15 years, there could be knock-on effects for the asset quality of non-recapitalised banks.
High loan impairment charges will put pressure on profitability, which will also continue to be affected by low interest rates, subdued business activity in the recession and banks' commitment to deleveraging. This could exert downward pressure on the Viability Ratings (VR) of some banks not in receipt of state aid, especially those more exposed to the domestic market.
Fitch's say how they expect to review soon the 'f' Viability Ratings of the banks in receipt of state aid to capture the benefit of the recapitalisation and transfer of real-estate assets to SAREB. The extent of likely VR upgrades will be influenced by restructuring challenges, at least until the banks establish a track record, and post-recapitalisation financial and liquidity profiles as well as banks' revised business plans.
The sector's restructuring efforts are likely to fuel the higher level of consolidation seen since the reforms started last year. We expect the M&A trend to continue for the rest of 2013. Together with the mandatory downsizing of recapitalised banks and cost optimisation by healthier banks, this should take further excess capacity out of the system and in time, contribute to sustained profitability.
Support dynamics are in flux, as highlighted by the EU's Banking Union and bank resolution initiatives and in the aftermath of the Cypriot banking crisis, which saw the bail-in of senior creditors and uninsured depositors at 2 banks. This may eventually affect the Spanish banks' Support Rating Floors and Support Ratings. In its analysis, Fitch will explore these themes and assess a number of factors, including the banks' franchises post restructuring and how this may impact their systemic importance and, the authorities' propensity to support an entity that has already received state assistance.