Rajoy says Europe should look at new powers for ECB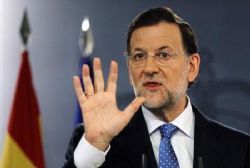 Spanish Prime Minister Mariano Rajoy said on Monday that Europe should look at changing the powers that the European Central Bank has, to align it more with other monetary authorities.
"I believe that in Europe among all of us we should look at whether the ECB should have the same powers as the rest of the world's central banks," Rajoy said in a news conference. "We should give ourselves the instruments that other countries have," he said, answering a question about monetary policy recently introduced by the Bank of Japan.