Contraction of Spanish economy slows in Q1 of 2013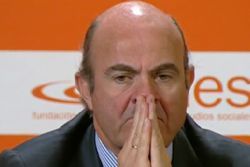 Spain's economy minister said on Tuesday the ECB should do more to help firms on the euro zone periphery obtain funding, keeping up pressure from Madrid for the bank to extend its crisis-fighting mandate.
Speaking at an event in Madrid, Luis de Guindos also said the Spanish economy was likely to have shrunk by 0.6% of GDP in Q1. That would mean the rate of its decline slowed from 0.8 % in the last 3 months of 2012.
"It would be logical for interest rates for companies in the monetary union be the same. This is not the case. Something has to be done. The discussion is there, this is an open discussion," de Guindos said.
"This is a question that worries the ECB, that worries European governments, and especially worries those who are seeing an increase in our funding costs. This is where there is a need to act."
De Guindos was answering a question about possible new powers for the ECB beyond its primary mandate to ensure price stability after PM Mariano Rajoy said on Monday it should have the same powers as other major central banks.
De Guindos said the Spanish economy would stabilize in the second half of 2013, although a sharp contraction is expected in both the first and second quarters.
"What we had foreseen was a drop of 5 to 6 decimal points (of GDP) in Q1, a slight improvement in Q2, a Q3 close to zero and then growth in Q4," de Guindos said.
"In relation to Q1, without full indicators in March, this profile would be met. We should be in this area."
Rajoy had also said on Monday that 2013 would be tough in terms of growth but that the economy would clearly expand in 2014, also calling Europe for a change of economic policy to boost activity and not only cut spending.
A government source told Reuters last week Spain would this month cut its economic growth forecast for 2013 to a fall of 1% of GDP and seek more time from the EU to reduce its budget deficit as recession cuts deeper than previously expected.
The source said the government would also forecast economic growth of 1% in 2014.