Ambassador has "No Knowledge" of Castellon Airport Deal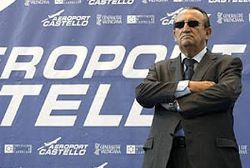 The Spanish ambassador to Libya, José Riera, said today he is not aware of the intentions of the Spanish-Libyan investment group with regards to their offer to purchase Castellon Airport.
The Ambassador made the comments during a lunch meeting in Valencia with the Regional Chamber of Commerce, who were enquiring as to how the deal was progressing.
Riera claimed instead only to know the details that had been reported in the press, and through casual conversations with colleagues.
The €200 Mln offer to buy the airport - which will equate to a €67.5 Mln loss for the regional of Valencia once costs, fees and charges have been applied - is however allegedly not accompanied by a Bank Guarantee.
As such the deadline to complete the sale by the end of March (and before that, February) was not met.
Recommended Reading
• Generalitat Valenciana shirks Castellon Airport compensation payment
• Castellon Airport & Paramount Murcia : Don't take us for fools !
• Castellon Airport : Yet another deadline looms
• Happy Birthday Castellon Airport