Spain Economy at risk from 'Imbalances' : EU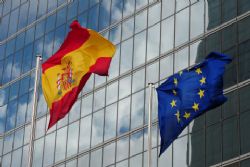 Spain and Slovenia have banking and labour-market problems that are causing imbalances in their economies, the European Commission warned on Wednesday after an in-depth review of 13 EU countries designed to stop trouble in individual states becoming a wider problem.
The early warning system, called the macroeconomic imbalances procedure, was set up after problems in Greece, Ireland and Portugal triggered the euro zone sovereign debt crisis, forcing euro zone countries to bail them out.
It can result in a fine of 0.1% of GDP for a country which has been warned that its economy is excessively unbalanced but does not take the recommended steps to fix the problem.
"(In) Spain and Slovenia, imbalances can be considered excessive," the Commission said, mentioning problems with high deficits and debt, imbalances in the banking system and the structure of the labour market.
It said that in Spain, which had to borrow €40 billion from the euro zone bailout fund to recapitalise its banks, very high domestic and external debt levels posed serious risks for growth and financial stability.
"Although adjustment is taking place, the magnitude of the necessary correction requires continuous strong policy action," the Commission said.
"Developments over the last year, including further contraction in economic activity, rising unemployment, and the need for public support for the recapitalisation of a number of banks, have exposed the vulnerabilities represented by those imbalances for growth, employment, public finances and financial stability," it said.
Unemployment in Spain is likely to reach 27% of the workforce this year as the country goes through a second full year of recession. The economic contraction could extend into 2014, the Commission said.
That is a more pessimistic view than Madrid's, where officials expect the economy to grow in 2014 after a tough 2013.
The Commission said that Spanish reforms, designed to improve public finances, increase the competitiveness of the economy and create jobs, were under way, but were not yet complete or they have not yet started to bear fruit.
Spain should liberalise its network industries, make its tax system more growth-friendly and review its labour market reform from last year to see if it made wage-setting more flexible and made young people more attractive as workers, as intended.
It should also use public employment services and vocational training to better help the unemployed find jobs, and continue consolidating public finances, the Commission said.
The recapitalisation of Spanish banks should be quickly completed and Madrid should think of other ways to provide credit to small and medium sized companies before banks can fully return to that role, it said.
Slovenia also faced substantial risks to the stability of its financial sector because of corporate indebtedness and deleveraging and the sector's links with public finances.
A relatively large bad loan portfolio is threatening the stability of Slovenia's banks and has raised investor concern that the country could become the next candidate for emergency euro zone loans.
"Urgent policy action is needed to halt the rapid build-up of these imbalances and to manage their unwinding," the Commission said.
The Commission suggested that Slovenia should recapitalise and privatise banks and attract foreign direct investment, sell-off state owned firms, and make Slovenian exports more attractive through wage restraint.
Both countries will now have to tell the Commission before the end of April how they want to address the problems and the EU executive will issue recommendations for them at the end of May.