Spain's Industrial output slumps 6% in Feb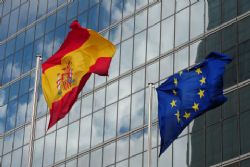 Spanish industrial output declined more than economists expected in February as PM Mariano Rajoy struggles to haul the economy out of a 6-year slump.
Production at factories, refineries and mines adjusted for the number of working days fell 6.5 percent from a year earlier, after declining a revised 4.9% in January, according to a report published by the INE on Wednesday. That compared with the median estimate of a 4.9% drop in a Bloomberg News survey of 8 economists.
Rajoy is seeking more time from EU peers to cut the 2nd-largest budget deficit in the euro region, as large as Greece's as a portion of GDP His government is concerned Spain's recession may further worsen after it stepped up the toughest austerity measures in its democratic history last year.
Spanish new car registrations in Spain, the euro area's 4th-biggest economy, fell 13.9% last month from a year ago. Modeled after the cash-for-clunkers program that lifted U.S. auto sales in 2009, initiatives offering discounts of €2,000 on a new car for drivers junking old wheels has failed to reboot demand. About 700,000 vehicles were sold in Spain last year, less than half the 2005 peak, according to LMC Automotive.
Economy Minister Luis de Guindos yesterday estimated output shrank between 0.5% and 0.6% inQ1, narrowing from the 0.8% drop in the previous 3 months. The Bank of Spain sees the economy stabilizing in the second half even as it maintains a forecast of a 1.5% contraction for the full year.