Spain politicians to be fenced off from evictions protesters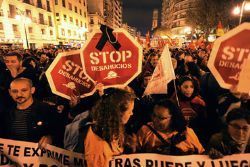 Spanish police will erect barriers around politicians' residences to shield them from protests over the growing number of home evictions and to call for changes to mortgage laws.
The Interior Ministry said on Wednesday it ordered police to keep demonstrators at a distance after protests outside the houses of senior members of the governing Partido Popular, including the Madrid home of Deputy PM Soraya Saenz de Santamaria.
Property foreclosures rose nearly fourfold in the four years since 2008 compared to the previous 4-year period, court data shows. Last year, foreclosure cases opened by the courts increased 18% from 2011 to nearly 92,000 as the country suffered its 2nd recession in 5 years and 26% of workers was unemployed.
Around 200 people descended on Saenz de Santamaria's home on Friday, including several victims of evictions who related their stories to the crowd using megaphones.
Protest groups, coordinated by the Platform for Mortgage Victims (PAH in Spanish), argue their demonstrations are peaceful, though officials, including PM Mariano Rajoy, have condemned what they call "acts of intimidation."
PAH wants changes to Spain's mortgage laws, which allow little margin for struggling homeowners to negotiate with banks than in other countries. Nor can mortgages be eliminated by personal bankruptcy.
The PP infuriated campaigners by amending a bill to ease mortgage regulations on Monday, removing a measure calling for such debts to be canceled once houses are repossessed.
Hundreds of banner-waving protesters demonstrated at People's Party headquarters all over the country on Monday evening after it emerged parliament would not debate the measure in an open session. The bill was triggered automatically after 1.5 million people signed a petition.
"The PP's proposal as it stands is one of economic, social and legal chaos," PAH spokeswoman Ana Colau said on Tuesday.
Rigid mortgage rules have helped keep Spain's mortgage default rate relatively low at 3.5%, around a third the rate in Ireland which suffered a similar property boom and bust.
On Tuesday the region of Andalusia, partly run by the opposition PSOE, said it would expropriate some properties from which families were about to be evicted so they could continue to live there. It would keep them out of lenders' hands for a maximum of 3 years.
Andalusia also said it would penalize banks for holding on to empty housing.
Banks such as La Caixa, the country's 3rd biggest, said on Wednesday they were still analyzing the measures.