House prices fell sharply in Spain by end 2012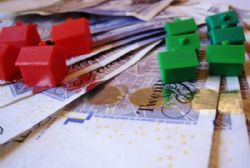 Residential property prices in Spain and Slovenia fell the most in the euro zone in the last 3 months of 2012, data showed on Thursday, a day after the European Commission warned of the fragility of the two countries' economies.
House prices fell 12.8% in Spain in Q4 of last year compared with the same period in 2011, the EU's statistics office Eurostat said.
Compared with Q3, Spanish house prices fell 1.4% at the end of last year, although that drop was the smallest in percentage terms for the whole of 2012, suggesting the rate of decline may be slowing.
In Slovenia, which is facing a banking crisis, prices slid 8.8% between October and December versus the same period in 2011, and by 3.5% on a quarter-by-quarter basis.
That compared with a euro zone average fall of 1.8% in Q4 on an annual basis. Compared with the Q3, residential real estate prices were down 0.5%, Eurostat said.
Spain and Slovenia have deep banking and labour-market problems that are some of the most complex in the EU, the European Commission said on Wednesday, naming the 2 countries in its early warning system that seeks to avoid national problems becoming a wider threat.
Eurostat's real estate data, which the office began releasing for the first time in January, shows the extent of the property crash that followed the global financial crisis from 2008 and propelled the euro zone into its own debt crisis.
A bursting of the property bubble in Spain not only erased years of economic growth, but left banks with trillions of euros of bad loans, helping to push unemployment to record levels.
Slovenia is trying to avoid becoming the latest euro zone country to take a bailout, following the rescue of Cyprus.
According to the Paris-based Organisation of Economic Cooperation and Development, Slovenia's local banks, mostly state-owned, are burdened with €7 billion in bad loans, equivalent to a 5th of Slovenia's annual output.