Luis de Guindos calls for 'Union' in the EU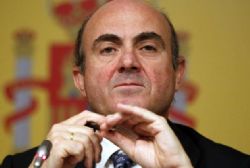 The Spanish Minister for the Economy, Luis de Guindos, met with his counterparts from around the EU yesteday, where he commented that the ECB must act to avoid the devolution of European deabt markets.
"Spain thinks there is a fragmentation in the credit market leading Spanish companies that are very solvent to pay very high interest rates", de Guindos was quoted as saying by Spanish public television Tve.
"This requires action and the first to be concerned is the ECB".
The Government is also calling for the creation of a stronger banking union and clearer policies in order to prevent further fragmentation.