Tomatina 2013 : Attendance limited and Chargeable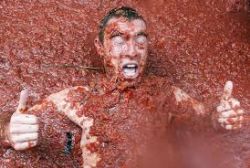 The Ayuntamiento of Buñol, Valencia, hopes to maintain the success of the internationally famous Tomatina Fiesta, however as from this year attendance will be limited to 20'000, and participants will be charged 10 Euros per person.
Tomatina Spokesman for the Ayuntamiento, Rafael Perez, confirmed the decision, adding that the aim is to improve safety, and to add to the overall enjoyment of the experience.
Perez also commented that the admission fee has been "well received" by the tour operators.
Tickets are expected to go on sale on the official website for the Fiesta (www.latomatina.info) at some point over the weekend, for this year's event on the 28th of August.
A total of 15,000 tickets will be for sale on the website, while a further 5,000 are reserved for local residents of the Town, who may request one free ticket per person.
Over recent years the event has attracted as many as 50'000 visitors, and saw costs for hosting the event escalate to €7.5 million. The number of participants also resulted in over 100'000 Kg of tomatoes being used, and the need for around 300 Local Police and Guardia Civil Officers to be on duty.
Read more about Valenica's famous La Tomatina fiesta by clicking the link >> HERE << .