King Silent on Anniversary of Exile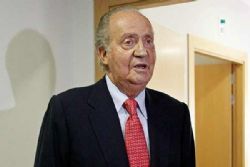 On this day in history - April the 14th 1931 - King Alfonso XIII of Spain went into exile, and the Second Spanish Republic was proclaimed.
The significance of the event can not be lost on the current King Juan Carlos, the Grandson of King Alfonso XIII.
Meanwhile today thousands of Spaniards held protest marches in central Madrid calling for the abdication of the monarch.
Just last week El Pais reported how the popularity of the Royal Family as a whole had fallen to an all-time low, with 53% of all Spaniards dissapproving of the King's leadership.
The week previously it was revealed how Spain - which is the only country in Europe besides Belarus not have a freedom-of-information, or transparency, law - agreed to lay the affairs of the Spanish Royal Family open to public scrutiny.
Recommended Reading
• Popularity of Spanish Royal Family Crashes
• Spanish Royal Family Agrees to Transparency