Spain to see further financial reforms by end April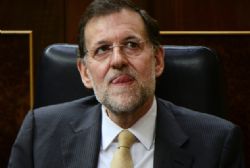 Mariano Rajoy has announced that the Government intends to introduce further reforms by the end of this month, placing a high priority on tackling tax fraud.
The Prime Minister went on to explain how the measures are aimed at increasing competitiveness and flexibility in the Spanish economy and eliminating any restrictions that are preventing growth in the manufacturing industry.
Rajoy empasised the Government's commitment to economic growth and the creation of new jobs, noting that "the same reformist spirit" from 2012 is being carried over into 2013. The priority is to clamp down on fiscal fraud and to introduce the necessary measures "to enable Spanish small- and medium-sized companies to gain access to credit," Rajoy made clear.
The PM insisted that the policy being implemented by the Government "is the right one given the circumstances." Rajoy reiterated that the policy is "all about correcting mistakes, maintaining the deficit reduction policy, eliminating as much debt as we can, implementing reforms, laying the groundwork for the future and taking decisions in Europe."
Rajoy also maintained that "Spain will return to the path of growth and job creation in 2014 and the measures were essential to bring this about.
Spain's Secretary of State for Economy and Business Support Fernando Jimenez Latorre recently revealed that the proposed reforms will see a "new fiscality," and will take into consideration the wishes of the EU, favoring growth while at the same time ensuring fiscal consolidation. Latorre failed to provide details of envisaged tax measures, although underscored that the proposals will be "ambitious" and will affect all areas, from the labor market to the financial markets.
Meanwhile, Finance Minister Cristobal Montoro, maintained that "there will be no tax hikes in Spain" next year. Montoro also clarified that "there will not be any reclassification of products in the different value-added tax (IVA) bands either," pointing out that this is in accordance with the principles of "tax equality and not damaging economic growth." Finally, Montoro warned that raising the reduced IVA rate applicable to transport, the hotel and catering industry and tourism would prejudice the competitiveness of the country.