Corvera Airport's Sacyr bags a profit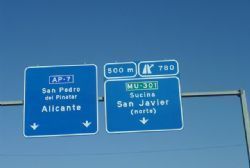 Testa, the property arm of Spanish construction company Sacyr Vallehermoso, has sold an office block in the United States, booking capital gains of around €50 million.
Testa sold the building in Miami for €184 million, the company said in a statement to Spain's stock market regulator on Monday night, to make a pretax profit of around €65 million.
The property was worth 3.6% of Testa's total assets at end-2012.
Good news for Sacyr - who own 60% of Spain's troubled Corvera Airport.
The Group is reported to have increasing concerns over the fact that Corvera Airport is showing no signs of becoming operational in the near future, and with clarification still required over repayments of the €200 Million regional loan, the reclassification of airspace, and the extend of compensation payments to AENA, Sacyr are rumoured to be fighting for the closure of neighbouring San Javier Airport to pave the way for future success at Corvera.
At least a few more Million in the kitty for Corvera should keep the heat off Corvera for a few more weeks.