Bank of Spain deliberates fate of Santander CEO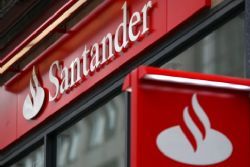 The Bank of Spain said on Tuesday it would open new proceedings to decide the fate of Santander's chief executive, who holds a criminal conviction, after the country passed a law last week that could help keep him in his post.
The central bank must decide if Alfredo Saenz, 70, is fit to continue in his role at the helm of the euro zone's biggest bank, based on the new banking ethics law.
The law helps Spain adhere to European recommendations for tighter oversight of how banks behave, but the new arrangement also gives the Bank of Spain more discretion to decide on individual cases, drawing on opinions from legal experts.
Until last week, top banking executives with a criminal record would in most cases have to be declared unfit to hold such a position.
Saenz was convicted in 2009 of filing a false complaint against shareholders in Santander-owned Banesto bank to pressure them to pay a debt, in a case that first arose more than a decade ago.
He was pardoned and a brief jail sentence was suspended. But in the latest twist in a case that has dogged him for years, Saenz's criminal conviction was reinstated earlier this year by Spain's Supreme Court.
The central bank said in a statement on Tuesday it had dropped its previous proceedings over Saenz's fate, opened in February, which took the old law as their reference point.
Santander declined to comment.
Saenz has fought the conviction and plans to appeal the Supreme Court's ruling, a source familiar with his legal team's thinking has said.
The case has so far not damaged Saenz's standing in the eyes of shareholders and he has not come under pressure in Spain to quit.
Spain's new rules on the ethics and skills of top bankers are part of a Europe-wide drive to improve the quality of executives and board members at financial institutions following the financial crisis.
The Economy Ministry has said the new law puts Spain in line with recommendations by the European Banking Authority.