Spain to receive more EU funding 2014-2021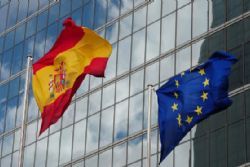 The Spanish Minister for Agriculture, Food and Environmental Affairs has confirmed that the country will receive more EU funding for rural development.
Miguel Arias Cañete said how funding for the 2014 - 2021 period would be greater than 2007 - 2014.
Cañete pointed out that the distribution of the fund is still to be decided at at a conference, but maintained that "the aid is not meant for the regional governments but rather for the farmers, who are those responsible for undertaking agricultural activity".
Although a revised CAP is still being negotiated within the EU, the Minister underlined the repercussions of financial discipline. "If a 5% reduction of funding is applied to those currently receiving more than €5,000 of aid, it would result in a reduction of 3.45% overall". This, he said, will mean "there will be more money for farmers" from 2014, even if financial discipline is applied.
Cañete confirmed that the regional governments will decide whether they want a "regional envelope" distribution system, which passes on the problem to each region or whether they would prefer there to be a national policy and for Central Government to redistribute the funds.