Spain approves new mortgage law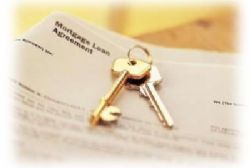 Spain's ruling Popular Party (PP) approved a new mortgage law on Thursday, in a move set to irk protesters concerned by forced evictions because some of their core demands have been ignored.
The new law does make it easier for some poorer families in the recession-hit country to cancel their debts but does not go as far as demands presented by a swelling protest movement over growing evictions in Spain, where one in four of the workforce is unemployed.
The Platform for Mortgage Victims (PAH) gathered 1.5 million signatures for a petition to change mortgage rules, something the government said it would take into consideration.
The new law must now go to the Senate, where it is also expected to pass as the PP has an absolute majority. The law will allow only households where every member is unemployed and annual combined income is under Ä19,000 to hand over their property to cancel mortgage debt.
In recent weeks protesters have started to gather outside politicians' homes to demonstrate over mortgages laws. The protests, known as "escraches", have led to furious reaction from the PP, especially after a protest outside Deputy Prime Minister Soraya Saenz de Santamaria's Madrid home.
Around 200 protesters gathered outside Congress on Thursday as lawmakers discussed changes to the mortgage law. The new law was rejected by all other political parties.
"Spain's mortgage law is over 100 years old and it's designed in the banks' favour," said 69-year-old priest Euribio Rodriguez, who had also participated in other protests.