Spain mobile operators under pressure as clients switch providers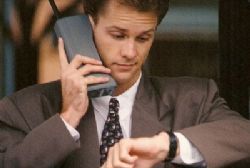 A near-record number of people in Spain switched mobile phone operators in February, reflecting continued cut-throat competition as cash-strapped customers look for better deals, telecoms watchdog CMT said on Friday.
In a country where one in four of the workforce is unemployed, mobile operators have stepped up efforts to undercut competitors in recent months to protect their market shares in a shrinking market.
In February, 575,138 people switched operator, an 18% increase on the same month the year before, and only slightly lower than the record 633,616 changes recorded in January, according to data from the telecoms regulator.
Former monopoly Telefonica lost 85,161 clients to rivals, while 95,115 customers ditched no. 2 player Vodafone for other operators. Orange lost 5,757 clients to other companies.
The winners were low-cost Yoigo, the smallest operator with its own network, which gained 32,424 mobile customers from competitors. Virtual operators, which rent network from established players, welcomed 153,609 new clients from other providers.
Fixed line specialists like Jazztel and cable operator ONO are making headway in an increasingly competitive environment since the market shifted to convergent offers that bundle services including internet, fixed line, mobile and television.
Figures seen by Reuters showed that Jazztel and ONO led the way in poaching clients from other operators in the first quarter of 2013.
Spain's mobile market is shrinking, both in terms of mobile lines and revenues as customers ditch their mobiles and try to save money, while the broadband market continues to grow. A total of 250,024 mobile lines were shed in February, while the broadband market added 52,681 connections.
Telefonica, which launched a convergent offer last October, added 12,088 lines, while alternative operators led gains with 39,325 new connections in February.